Plate Heat Exchanger Model
Brazed Heat Exchanger Model
Replacement Heat Exchanger Gasket
Replacement Heat Exchanger Plate

Email: Sales@Jiawei-PHE.com
Tel:+86-0510-81618276
Fax:+86-0510-84060078
Mobile: +86-18681816635


:Eric201066


:18681816635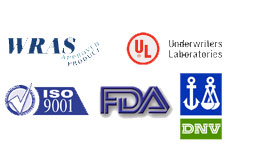 You are here:PHE Application
Plate Heat Exchanger Application
Local and District Cooling
Local cooling is the most common cooling system globally. The local cooling system provides cooling for a single building, for example a hotel, confe-rence center, sport center hospital, or an office block. The chiller plant and the storage facility are located inside each building, the cooling source usually being a chiller. Depending on availability some sort of free cooling might be used, alone or in combination with the chiller. The cold from the source water is transferred to the buildings internal cooling system in a plate heat exchanger.

Cooling tower
One solution is an indirect system using a heat exchanger in combination with the open cooling tower. The advantages of this are:
Low system cost: Cost calculations show that the payback period of the heat exchanger is very short.
Material savings on condenser: Less expensive materials can be used.
With an intermediate heat exchanger, chillers as well as cooling towers can be run at an optimal temperature.
An intermediate heat exchanger means that the use of water treatment chemicals, for example chromates used for the cooling tower water, can be minimized.
Less maintenance of condenser.

Chiller bypass and Absorption chiller
Traditionally the chiller in an air conditioning system runs continuously during the entire cooling season, even when full capacity is not required. Previously, the only alternative to constant chiller operation has been a chiller bypass system using a strainer. This strainer removes impurities, but at the same time it requires costly maintenance, chlorination and other chemical treatment.
By installing a Plate Heat Exchanger and sometimes a filter to protect it C in the chiller bypass system, corrosion, scaling and constant maintenance can practically be eliminated. Another advantage is that this sys-tem can use any type of cooling, such as a cooling tower or free cooling with river or well water, even seawater or brackish water, without ruining sensi-tive equipment like air conditioners.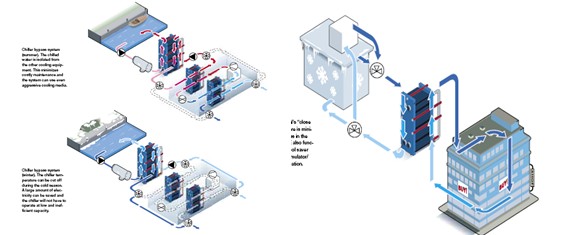 District heating systems
District heating systems play an important role in saving energy and in the use of environmentally friendly systems. Our plate heat exchangers are used in district heating networks at different locations in the thermal circuit and thus contribute to sustainable energy management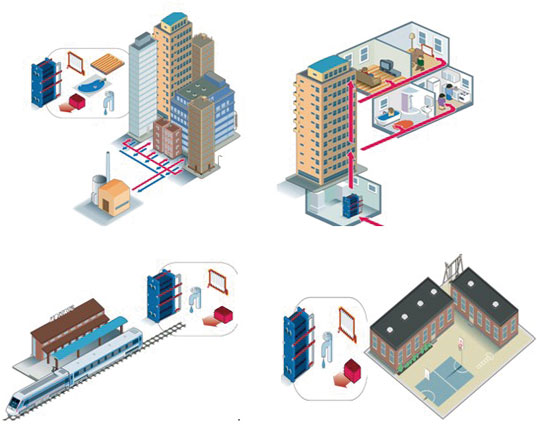 Swimming pools
Whether seawater or service water C the use of high-alloy stainless steel and titanium in our PHE Systems heat exchangers provides constant and agreeable water temperatures.

Solar energy can be used as heat from solar collectors, i.e. solar thermal technologies, both inlarge-scale and small-scale installations. Providing households with heated water is one common heating application in regions with the appropriate climate. The solar heat is absorbed on a flat surface and then transported to storage by some type of fluid. A storage tank is needed because most.
Shipbuilding and onshore/offshore engineering
Plate heat exchangers from Our PHE Systems are optimally suited for all cooling tasks in the engine room. They have proved their worth, both technically and economically, as the best solution, as they ensure that heat generated by all machinery and components is fed to the central cooler via a fresh water circuit. In this way our customers easily meet the regulations for offshore environmental protection.

Our PHE Systems know-how does not just safeguard the cooling of drive units. We also build reliable special designs for raw materials exploration and the onshore/offshore field (dredgers, drilling platforms, etc.). Our customers benefit from complete cooling units, comprising not only plate heat exchangers, but also extensive accessories such as CIP pumps, valves and control systems.

Our PHE Systems plate heat exchangers are used on board in the following areas:
Lubricating oil cooling
Central cooling of main and auxiliary engines and/or turbines
Cooling of transmission, compressor and other lubricating oils
Heavy oil and lubricating oil pre-heating
Seawater pre-heating for fresh water production
Heat recovery
Heat exchange for air-conditioning of passenger and freight areas
Diesel fuel pre-heating

Marine engine constructio
cooling of diesel engines is the most important application of plate heat exchangers in the marine field. This is why we have designed our units so that they can be positioned separately next to the engine or be mounted directly on the engine block in order to save space.
Thinking and acting ecologically
Plate heat exchangers by PHE Systems contribute to reducing carbon dioxide emissions in the field of renewable energy. With their wide range of materials and diverse designs we offer our clients the optimum solution, always.

Fields of application
Plate heat exchangers by PHE Systems can be used in the fields of liquid product, either as condensers or as evaporators. In addition our plate heat exchangers are used in the fields of solar engineering, geothermal and in combined heating/power stations.

Freedom to combine
A large selection and widely differing plate and gasket materials always enables you to select the optimum combination for your specific application. Whether this involves greases and oils, preparation of biodiesel or applications using glycerine and methanol C you will always find the perfect solution from us.
Dairy industry
Wether the task is pasteurization, heating or cooling of dairy products, curd cheese, retentate, baby food or one of may others C our plate heat exchangers are perfectly suited for careful treatment of food and guarantee maximum economic efficiency and security.

Brewing industry
To subject wort, yeast, green beer and mash to thermal treatment, Our PHE Systems offers you optimized plate heat exchangers which allow the passage of product containing solids. For the heating of carbonated beverages we also have apparatus with higher pressure resistance. And the maximum heat recovery of up to 96 percent is an achievement to put a smile on every brewers face

Fruit juice and beverage industry
Our plate heat exchangers are used for preserving juices with and without pulp, fruit concentrates, sugar solutions, tea, soft drinks with and without carbonic acid, etc. It goes without saying that the quality of your products is strictly maintained. And our individual solutions for pasteurization and thermal treatment with hot or cold bottling allow considerable energy savings C up to 94 percent!