Plate Heat Exchanger Model
Brazed Heat Exchanger Model
Replacement Heat Exchanger Gasket
Replacement Heat Exchanger Plate

Email: Sales@Jiawei-PHE.com
Tel:+86-0510-81618276
Fax:+86-0510-84060078
Mobile: +86-18681816635


:Eric201066


:18681816635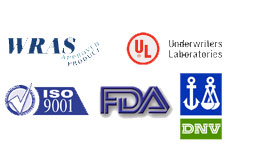 You are here:Plate Heat Exchanger Gasket
Plate Heat Exchanger Replacement Gasket
We supply PHE replacement gasket for the most plate heat exchanger brand, all the gaskets can 100% replace with the original one.
The gaskets are manufactured at our own factory, they are already used in after market all over the world for 10 years.
Being the source,we provide hight quality gasket with competitive pricing and the shortest delivery time.




Gasket - materials
• The choice of rubber material depends on
– Fluids-chemical attack or not
– The combination of temperature and pressure
• Rubber materials change properties due to
– Time-the rubber relaxes
– Temperature-the rubber deteriorates
– Hardening by attack of oxidising agents(e.g., oxygen in air)
– Swelling or softening by absorption of chemicals in the fluids
• Common gasket types
– Nitrile – EPDM – FKM
• Nitrile (NBR)
• NBR (standard material) up to 110°C
• NBR-HT(hight temperature) up to 130°C
• NBR (FDA)-food grade for standard NBR
• NBR-HT(FDA)-food grade for high temperatures NBR

• NBR-LT-for low temperature inrefrigeration applications
•HNBR(hydrogenated) for duties where normal NBR swells and for higher temperatures up to 150°C, more expensive
–Resistant to :
Many hydrocarbons, fats, oils, greases, hydraulic fluids, sea water,chemicals.
–Attacked by :
Ozone (except PVC blends), ketones, esters, aldehydes, chlorinated and nitro hydrocarbons
• EDPM
• Standard material up to 150 °C
• EPDM (FDA)-food grade for EPDM.
–Resistant to :
Water, Animal and vegetable oils, ozone, strong and oxidizing chemicals.
–Attacked by :
Mineral oils and solvents, aromatic hydrocarbons.
• FKM, Fluorocarbon rubber
– Often called VITON (DuPont trade name) , used for aggressive chemical compounds
–Resistant to :
High temperature steam,aliphatic, aromatic and halogenated hydrocarbons, acids, animal and vegetable oils.
–Attacked by :
Ketones, low molecular weight esters and nitro containing compounds.
– Two different qualities usually used
• FKM A (VITON A)
• FKM G(VITON G) High performance and temperature resistance,much expensive than VITON A
Gasket - sealing lifetime
Product
• Gasket material
• Fastening
– Glue or glue-free
– Type of glue
• Gasket geometry
• Gasket groove
• Alignment of plate pack
Duty
• Operating temperature
• Operating pressure
• Media
• Type of operation continuous / cyclic
• Cleaning methods & chemicals
• Opening frequency
• Maximum temperature in CAS and product manual,
for example,
– NBR up to 110°C
– EPDM up to150°C
Gives 1 year life time
When no chemical attack takes place
• Rule of thumb:
– 10°C lower than max temperature,more than one years life time
– 10°C above the max temperature,6 months life time